2019 Cabot Trail Writers Festival
Oct.4-6, 2019
Gaelic College in St. Ann's, Cape Breton
Call (902) 224-5231 to purchase tickets over the phone, or book by e-mail.
Tickets are no longer available for sale at the Gaelic College, but if you prefer to pay for tickets in person, please just contact us by phone or e-mail and we will gladly arrange a suitable alternative.
2019 Festival Schedule
Opening Night with Host Mark Medley: Readings by Our Festival Authors
Friday, October 4, 2019 • 7:00 p.m. – 10:00 p.m.
6:15 p.m.
Doors Open
Hors d'oeuvres, cash bar, bookstore
7:00 p.m.
Welcome
Acknowledgments
READINGS: Tom Ryan, Lesley Crewe, Jessica Westhead, Sara Peters, Joshua Mensch
8:30 p.m.
Break
Cash bar, bookstore, hors d'oeuvres and book signings
9:00 p.m.
READINGS: Alicia Elliott, Lynn Coady, Eleanor Wachtel, George Elliott Clarke
10:00 p.m.
Hors d'oeuvres, bookstore, book signings and mingling with friends and authors
A Day Between the Covers: Workshops, Conversations & Music
Saturday, October 5, 2019 • 9:00 a.m. – 9:30 p.m.
9:00 – 11:15 a.m.
CLOSE READING IN POETRY: POETRY WORKSHOP with Joshua Mensch (Education Centre)
* Advance registration required *
This workshop will focus on the practice of "close reading" in poetry. An essential skill for any writer, close reading helps us see our work more clearly by forcing us to observe how—and how well—our language is working on the page. It is especially vital to a poet's work where the pressure on each word and phrase is so high. Our goal in this workshop will be to become better readers of our own work. To that end, we'll look at how various elements that shape a poem—from its form and meter, to its syntax and rhythm, word and image choices—in turn shape the way we experience it.
Participants should submit one poem each for possible discussion (and written feedback from instructor) no later than September 20. Further submission guidelines will be provided upon registration.
9:00 – 11:15 a.m.
* SOLD OUT! * "YIKES! I'M A WRITER??": FICTION WORKSHOP with Lesley Crewe (Dance Studio)
This is a workshop for innocent folks who think they'd like to be a writer. But do your eyes glaze over when you hear words like "plot," "structure," and "point of view"? Does your anxiety level rise when someone discusses, "narrative voice," or "dramatic effect"?
Then this is the workshop for you! I like simple. I want to give you some hints about what helped me to write eleven books in fifteen years. I never meant to be a writer, and I'm an expert in absolutely nothing, but I've learned a thing or two on this journey. Like what to do when your characters refuse to cooperate. You kill them off.
There is nothing academic about this, just stuff that made my life easier while I was writing book after book. If you'd like to hear about it, join me, and we'll moan about writing together.

9:30 a.m. – 11:15 a.m.
WHERE DO STORIES COME FROM? FREE WORKSHOP FOR YOUTHS Ages 12-18 with Tom Ryan (Education Centre)
* Advance registration required *
Since humans first sat around campfires discussing the day's hunt, we've created and shared stories. From ancient oral traditions to online storytelling platforms, the narrative impulse is deeply embedded in our hearts, souls, and histories. In this interactive workshop, we'll discuss how readers respond to character, motivation, setting, and plot, and how these basic elements can hook the imagination when assembled and polished in just the right way. Using powerpoint, handouts, and audience interaction, I will ultimately call on participants to help me create a brand new story on the spot. It's an experience in which I expect to learn as much as they do!

11:30 a.m. – noon
* For registered workshop participants only *
Workshop Lunch (MacKenzie Hall)

12:15 – 1:15 p.m.
FESTIVAL BOOK CLUB with Jessica Westhead (MacKenzie Hall)
* Advance registration required *
12:15 – 1:15 p.m.
LITTLE PEOPLE TELL BIG STORIES: FREE WORKSHOP FOR KIDS Ages 7-11 with Tom Ryan (Education Centre)
* Advance registration required *
We'll begin by discussing our favourite stories, from well-loved family gems passed down by grandparents, to popular books and films, and then begin breaking them apart to see what makes them tick. In an engaging and interactive presentation, we'll work as a group to create a brand new story, complete with engaging characters, intriguing settings, and maybe even a plot-twist or two!

1:45 p.m.
HEARD IN THE HIGHLANDS
A stroll among the changing colours of the forest surrounding the Gaelic College, featuring literary readings by Jessie Chai, Perla MacLeod, and Louisa Esangbedo, contributors to Once Upon an Island: Traditional Tales from New Cape Bretoners, along with with songs and harp music (weather-permitting!) by Màiri Britton. Please dress for the weather and meet at the junction of Mackillop Road and the Cabot Trail, just east of the Gaelic College entrance. In case of rain, performances will take place in the Pavillion, a sheltered outdoor performance area at the rear of the Gaelic College campus.
3:30 p.m.
JUST BETWEEN US: THE INTIMATE RELATIONSHIP BETWEEN WRITER & READER (Great Hall of the Clans)
A Conversation with Tom Ryan, Jessica Westhead & Lesley Crewe, moderated by Mark Medley on the
subject of how the private act of writing becomes the eponymously public act of publication, what role the
imagined reader plays in the mind of the writer as s/he works, how writers reach and connect with their
readers, how 21st-century technology has changed the relationship, and what if anything a writer owes the
reader once the book is complete.

5 p.m.
A CONVERSATION with Lynn Coady (Great Hall of the Clans)

6 p.m.
Supper (Great Hall of the Clans)
7 p.m.
MUSIC & PERFORMANCES with George Elliott Clarke, We'koqma'qewiskwa, Andrea Currie & Abbey Mullendore (Great Hall of the Clans)

8 p.m.
Eleanor Wachtel presents THE LIVES OF WRITERS (Great Hall of the Clans)


Festival Close: Conversations, Brunch & Songs
Sunday, October 6, 2019 • 9:00 a.m. – 3 p.m.
9:00 a.m.
GÀIDHLIG, AN CÀNAN CEÒLMHÓR, BLASDA, BINN ("GAELIC, THE MUSICAL, SAVOURY, SWEET LANGUAGE")
A Performance, Reading & Conversation in Gaelic and English with Mary Jane Lamond, Màiri Britton, Goiridh Dòmhnullach, and host Lewis MacKinnon (Great Hall of the Clans)

10:40 a.m.
Break (Great Hall of the Clans)
Bookstore; coffee, tea & treats
11 a.m.
WHAT GOOD DOES WRITING DO?: HOW BOOKS CAN CHANGE US & OUR WORLD (Great Hall of the Clans)
A Conversation with Joshua Mensch, Sara Peters & Alicia Elliott, moderated by Mark Medley, on the subject of the personal, social and political impact of literary work; the limits of that power and whether it should even be the objective of writing to do good in the world; how the panellists have been moved or disappointed by the scope of influence of books or have tried to be an influence themselves; and what mark, in the end, is made by marks on a page.

Noon
Brunch (Great Hall of the Clans)
1 p.m.
A CONVERSATION with George Elliott Clarke (Great Hall of the Clans)
2 p.m.
SONGS & STORIES with Shawnee Paul, Toney Morgan, Bradley Murphy & Mario Colosimo (Great Hall of the Clans)
FEATURED ARTISTS
is the critically acclaimed and award-winning author of six books, including Hellgoing, which won the Scotiabank Giller Prize, was a finalist for the Rogers Writers' Trust Fiction Prize, and was an Amazon.ca and Globe and Mail Best Book. She is also the author of The Antagonist, winner of the Georges Bugnet Award for Fiction and a finalist for the Scotiabank Giller Prize. Her first novel, Strange Heaven, published when she was just twenty-eight, was a finalist for the Governor General's Literary Award. Her books have been published in the U.K., U.S., Holland, France, and Germany. Coady lives in Toronto and writes for television.
is a Tuscarora writer from Six Nations of the Grand River living in Brantford, Ontario with her husband and child. Her writing has been published by The Malahat Review, The Butter, Room, Grain, The New Quarterly, CBC, Globe and Mail, Vice, Maclean's, Today's Parent and Reader's Digest, among others. She's currently Creative Nonfiction Editor at The Fiddlehead, Associate Nonfiction Editor at Little Fiction | Big Truths, and a consulting editor with The New Quarterly. Her essay, "A Mind Spread Out on the Ground" won Gold at the National Magazine Awards in 2017, and another of her essays, "On Seeing and Being Seen: Writing With Empathy" was nominated for a National Magazine Award in 2018. She was the 2017-2018 Geoffrey and Margaret Andrew Fellow at UBC, and was chosen by Tanya Talaga to receive the RBC Taylor Emerging Writer Prize in 2018. Her short story "Unearth" has been selected by Roxane Gay to appear in Best American Short Stories 2018. Alicia is also presently working on a manuscript of short fiction.
was the 4th Poet Laureate of Toronto (2012-15) and the 7th Parliamentary/Canadian Poet Laureate (2016-17), and is a revered artist in song, drama, fiction, screenplay, essays, and poetry. Born in Windsor, Nova Scotia, in 1960, Clarke was educated at the University of Waterloo, Dalhousie University, and Queen's University. Clarke is also a pioneering scholar of African-Canadian literature. A professor of English at the University of Toronto, Clarke has taught at Duke, McGill, the University of British Columbia, and Harvard. He holds eight honorary doctorates, plus appointments to the Order of Nova Scotia and the Order of Canada at the rank of Officer. He is also a Fellow of the Royal Canadian Geographical Society. His recognitions include the Pierre Elliott Trudeau Fellows Prize, the Governor-General's Award for Poetry, the National Magazine Gold Award for Poetry, the Premiul Poesis (Romania), the Dartmouth Book Award for Fiction, the Eric Hoffer Book Award for Poetry (US), and the Dr. Martin Luther King Jr. Achievement Award. Clarke's work is the subject of Africadian Atlantic: Essays on George Elliott Clarke (2012), edited by Joseph Pivato. Finally, though Clarke is racialized "Black" and was socialized as an Africadian, he is a card-carrying member of the Eastland Woodland Métis Nation Nova Scotia, registered under Section 35 of the Charter of Rights and Freedoms. He is, at last, a proud Afro-Métis Africadian.
was born and raised in Inverness, Nova Scotia. He's a graduate of Mount Allison University and NSCC.
Since 2012, Tom has published several books for young readers of all ages. He has been nominated for the White Pine Award, the Stellar Award and the Hackmatack Award, and two of his books - Totally Unrelated and Big Time - were Junior Library Guild selections. Two of his young adult novels, Way to Go and Tag Along, were chosen for the ALA Rainbow List, in 2013 and 2014. In 2017, on the occasion of Canada's 150th birthday, his first novel, Way to Go, was chosen as one of the most significant books in Nova Scotia's history. He was a 2017 Lambda Literary Fellow in Young Adult Fiction.
Tom, his husband and their dog currently divide their time between Ontario and Nova Scotia.
is the author of ten novels, including Beholden, Mary, Mary, Amazing Grace, Chloe Sparrow, Kin, and Relative Happiness, which has been adapted into a feature film. Previously a freelance writer and screenwriter, her column "Are You Kidding Me?" appears weekly in the Chronicle Herald's community newspapers. Lesley lives in Homeville, Nova Scotia.
fiction has been shortlisted for the CBC Literary Awards, selected for the Journey Prize anthology, and nominated for a National Magazine Award. Her short stories have appeared in major literary journals in Canada, the US and the UK, including Hazlitt, Maisonneuve, Indiana Review and Hamish Hamilton's Five Dials. She is the author of the novel Pulpy and Midge and the critically acclaimed short story collections Things Not to Do and And Also Sharks, which was a Globe and Mail Top 100 Book, a Kobo's Best eBook of the Year and a finalist for the Danuta Gleed Literary Award. Westhead is a creative writing instructor at the Chang School of Continuing Education at Ryerson University.
is a poet, visual artist, and a founding editor of the literary journal B O D Y. His first book, Because: A Lyric Memoir, was published in 2018 by W.W. Norton and was a finalist for the Governor General's Literary Award in Poetry. He grew up in Nova Scotia, Canada, and lives and works in Prague, Czech Republic.
was born in Antigonish, Nova Scotia, and lives in Toronto. She completed an MFA at Boston University, and was a Stegner fellow at Stanford. Her work has appeared in Slate, The Threepenny Review, and Poetry magazine. Her first book is 1996, and her new book is I Become a Delight to My Enemies.
unique blend of integrity, warmth and intelligence consistently wins the trust of international and high-profile writers, over 29 years as host of CBC Radio's Writers & Company. At the end of their conversation in 2013, John le Carré told her, "You do it better than anyone I know." Nobel Prize-winning novelist Kazuo Ishiguro stated, "Eleanor Wachtel is one of the very finest interviewers of authors I've come across anywhere in the world."
Five selections of her interviews have been published, including Random Illuminations, a book of reflections, correspondence and conversations with Carol Shields, which won the Independent Publisher Book Award, and The Best of Writers & Company. Eleanor herself has earned numerous accolades for her contributions to Canadian cultural life, including nine honorary degrees and Officer of the Order of Canada.
is Deputy Editor of the Globe's Opinion section. He previously served as the Globe's books editor, and, prior to joining the paper in 2014, he spent more than seven years at the National Post, where he served as an arts reporter and books editor. A graduate of Queen's and Ryerson University, his work has appeared in publications including Toronto Life, The Walrus and across the Postmedia chain of newspapers, and he frequently serves as a host and interviewer at literary festivals across the country. He will host the 2018 Cabot Trail Writers Festival.
is a Gaelic singer whose passion is to explore the Nova Scotia Gaelic song repertoire. She has recorded six albums and worked in a number of different roles and projects focused on promoting and sharing the Gaelic language and culture of Nova Scotia.
It was through visiting her grandparents in Nova Scotia that Mary Jane fell in love with Gaelic tradition and song. While enrolled in St. Francis Xavier University's Celtic Studies programme, she released her first album, and its reception launched a career of international touring and award-winning further recordings. Alongside numerous Juno awards and ECMA nominations, Mary Jane received the prestigious Portia White Prize in 2010 in recognition of her efforts to preserve Gaelic culture through song. She is proud to still be learning about this song tradition.
balances university teaching in her new home of Antigonish, N.S., with running community Gaelic classes and immersion days, using the locally developed 'Gàidhlig aig Baile' methodology. She is also manager of the Nova Scotia Gaelic song project, 'Language in Lyrics' (www.languageinlyrics.com), at Cape Breton University. She spends as much time as she can visiting local Gaelic tradition-bearers in in the province to learn from their store of songs, stories and cultural wisdom.
A Gaelic singer, step dancer and harpist, Màiri has performed and taught workshops and summer schools in Scotland, Ireland and North America. She tours internationally as lead vocalist and step dancer with the North American Gaelic trad group Fàrsan (www.farsanband.com).

is a singer, songwriter, storyteller, folklorist, and local historian from Bràigh na h-Aibhneadh in southern Inverness County (Kingsville, CB). He learned much from some of the finest seanchaidhs and tradition-bearers from his parish. In his job as Oifigear na Gàidhlig (Gaelic Field Officer), he works often with youth and with advanced learners of the Gaelic language.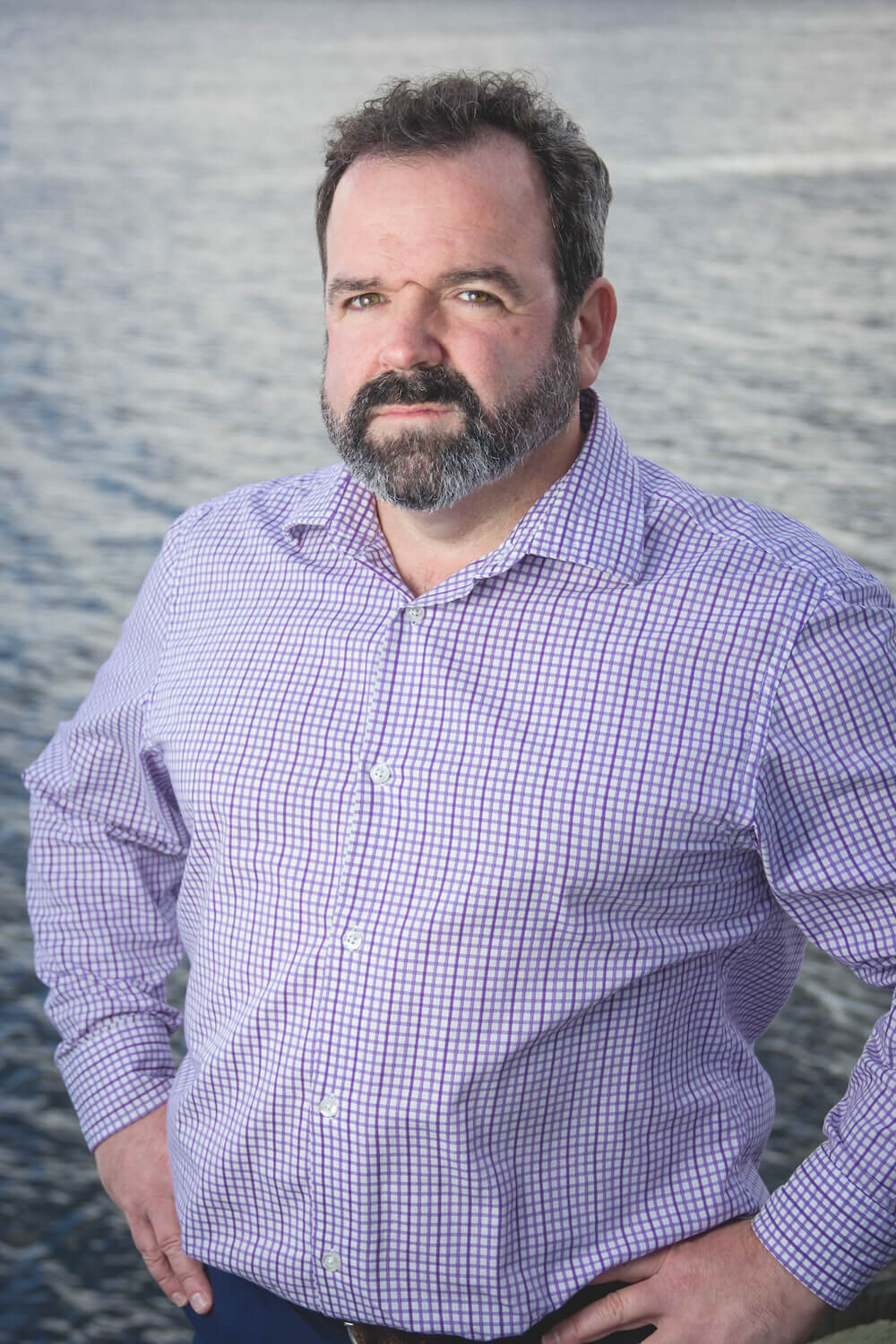 was born in Inverness, Cape Breton, to a father who is a Gael and is a Gaelic speaker and a mother who is Acadian and is a French speaker. He was raised on the Nova Scotia mainland in Antigonish County. In 2011, he was named the poet laureate to the Royal National Mòd in Scotland. He works to advance Gaels' language, culture and identity in Nova Scotia, Canada and internationally. He lives with his family in Middle Sackville near Halifax.